We are ready to invite our first members to join and try out the new inventory management software with a very special introductory offer. Have you ever lost one of your assets or lost track of stock? This system will make sure it never happens again.
For a limited time only our special introductory offer to use our online inventory management system is:
ONLY R 150.00 per month
AND A ONCE-OFF SETUP FEE OF R 1 200.00
CONTACT US RIGHT NOW TO SIGN UP!
Send a mail to info@mydestination.co.za
Use the contact us form
OR Send a fax to 086 511 7122
This includes:
A Premium Listing on www.mydestination.co.za
Your rooms, locations and staff will be pre-loaded for you
A quick start guide to help you get going on the online inventory management system
Free telephonic support during business hours, or contact us via e-mail or Skype
YOU can participate in the design of the system - Give us feedback to make the stock management software and asset management software better
No increase in monthly fees for our valuable BETA VERSION CUSTOMERS WHO SIGN UP NOW for the first TWO YEARS GUARANTEED
Why use this system?
Its affordable - For the price of a take-away meal for two
It is feature rich - All the functionality you expect from an online inventory management system
It is getting better all the time - As we get feedback from our customers the system is improved
It is flexible - If you don't want to use it anymore, simply cancel your monthly payments with one month's notice
We have selected a few features to highlight. Contact us right now and then browse through the screen shots to see what you will be getting your hands on!
You can view all the important details of your stock on one screen:
And your assets too: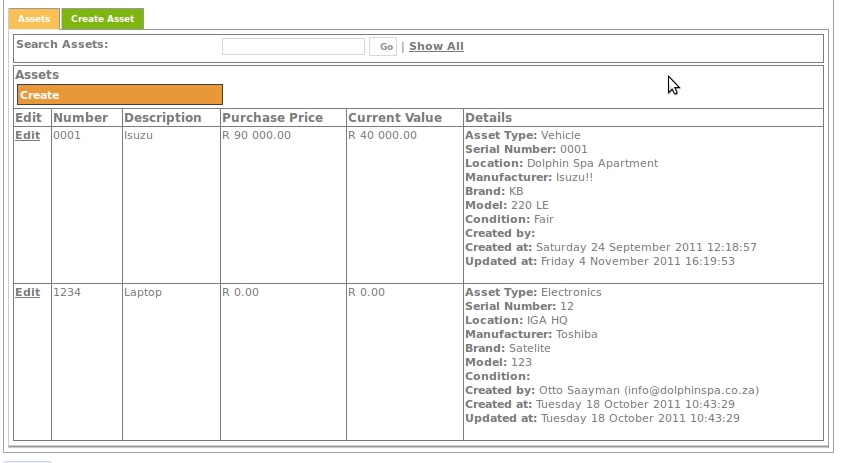 Go into your stock detail to see how much you have left, where it is or capture the details of stock as it goes in or out: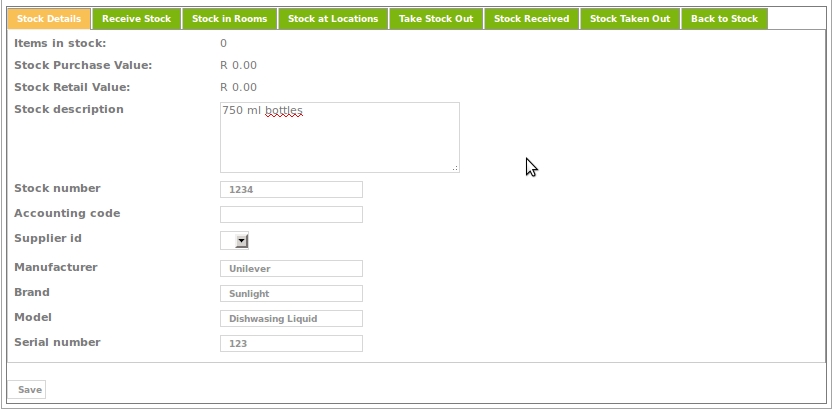 Buying stock? Load it and view reports in real time:
Letting go is not hard. Stock used or sold? Easy!
Wondering where it is? Assign stock to a room or location:
From store room to garage. You know where everything is:

And DITTO for Assets:
Keep track of value, warranties, service intervals and who's responsible for every asset:
Employee taking the car? No problem:
Easy printable screens make it so simple to run your operation more efficiently.
Contact us RIGHT NOW and get organised!
Comments